Physical Therapy Innovations has certified 'ROCKTAPE Docs' to provide you with Rock Tape Fascial Movement Taping (FMT)!
Our certified staff can apply ROCKTAPE for you, but also instruct and assist you so that you can apply the tape on your own.
ROCKTAPE Fascial Movement Taping (FMT) promotes better movement patterns so you can recover from injuries faster! It also improves athletic performance by reducing muscle fatigue and promoting proper form.  Unlike conventional tape which constricts blood-flow, ROCKTAPE lifts the skin away from muscles, which increases blood-flow. ROCKTAPE also helps promote proper form by helping athletes coordinate their movements, which leads to efficiency.
ROCKTAPE can be used for RUNNING (planters, knee, and shin support), CYCLING (thigh and calf support), SWIMMING (shoulder issues), SOCCER (achilles tendon), GOLF (elbow and lower back), TENNIS (elbow, rotator cuff). ROCKTAPE is also great for BASKETBALL, VOLLEYBALL, BASEBALL, LACROSSE, FOOTBALL, and other sports!
Unlike other products, ROCKTAPE can be used to both apply compression to promote recovery, or decompression to relieve pain and swelling.  ROCKTAPE also promotes lymph drainage to remove toxins produces by the body during hard efforts. These combined effects are powerful: they allow the athlete to go harder for longer periods of time. And unlike compression garments, ROCKTAPE can be applied to very specific areas of the body that are sometimes hard to reach, such as shoulders, knees, and other joints.
Call us today if you are interested in receiving Rock Tape Fascial Movement Taping (FMT) as part of a physical therapy program.
Kinesio Taping®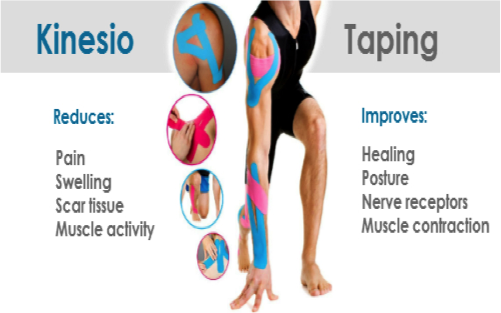 The Kinesio Taping® Method is a definitive rehabilitative taping technique that is designed to facilitate the body's natural healing process while providing support and stability to muscles and joints without restricting the body's range of motion as well as providing extended soft tissue manipulation to prolong the benefits of manual therapy administered within the clinical setting. Latex-free and wearable for days at a time, Kinesio® Tex Tape is safe for populations ranging from pediatric to geriatric, and successfully treats a variety of orthopedic, neuromuscular, neurological and other medical conditions.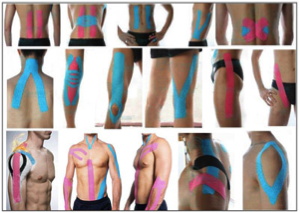 The Kinesio® Taping Method is a therapeutic taping technique not only offers support, but also rehabilitating the affected condition as well. By targeting different receptors within the somatosensory system, Kinesio® Tex Tape alleviates pain and facilitates lymphatic drainage by microscopically lifting the skin. This lifting affect forms convolutions in the skin thus increasing interstitial space and allowing for a decrease in inflammation of the affected areas.